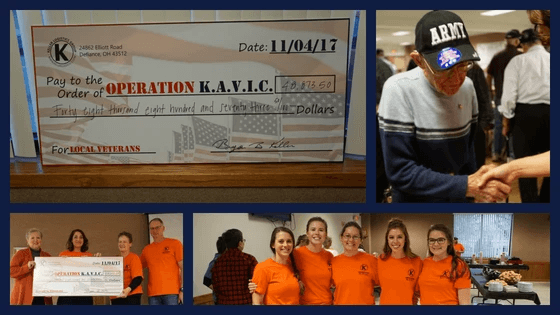 Operation K.A.V.I.C. (Keller Assists Veterans In Crisis) is in its 3rd year of assisting veterans, reservists, national guardsmen, and their surviving spouses in Defiance County. What started out as simply using money collected from employee jeans days at Keller Logistics Group to buy gift cards for the veterans office to distribute to local veterans during the holidays has expanded into an annual fund that provides financial assistance to local veterans to fill the gaps in their veteran benefits.
In 2015, together with the Defiance County Veterans Office and Ravens Care of Defiance, we hosted a Veterans Appreciation Dinner and asked our business partners, local businesses and community members to sponsor the event or donate door prizes. To everyone's surprise, we raised over $36,500 in just 4 months of planning! Most of the funds raised were distributed to local vets over the following year, so we planned a second veterans appreciation dinner in 2016, and another in 2017.
In the last three years combined, Keller Logistics Group has raised over $125,000 to support veterans and their families in Defiance County!
So far, from January 1 – May 31st, 2018, Operation K.A.V.I.C. has provided $23,796 in assistance to veterans and their families, impacting the lives of 167 Defiance County residents.
The purpose of Operation K.A.V.I.C. is to fill the gaps that veterans' benefits don't cover, such as dental and vision expenses, and hearing aids. These expenses make up 13% of the funds spent to help local veterans. We see a lot of need for assistance with medical bills, however, with the extremely cold winter we had, 26% of the funds spent so far this year were used to help pay utility bills. The next largest need for assistance is with medical and prescription costs – 13%, followed by rent/housing – 10% and assistance purchasing food – 9%
As the word spreads about how Operation K.A.V.I.C. assists local veterans, we are able to help more veteran families every year! So, we have big goals for the 2019 funding of Operation K.A.V.I.C., including the addition of 2 additional fundraisers:
Eat Wings Raise Funds
On Wednesday, July 25th we're hosting an Eat Wings Raise Funds event at the Defiance Buffalo Wild Wings. Simply stop in and grab some wings (or any other tasty item on their menu) and help your local veterans! 10% of proceeds from food purchases will be donated to Operation K.A.V.I.C.
1st Annual Operation K.A.V.I.C. Golf Outing
Enjoy playing golf? Join us for the 1st Annual Operation K.A.V.I.C. Golf Outing on Saturday, August 4th at Eagle Rock golf course in Defiance! Registration starts at 8:00am and the scramble starts at 9:00am. Visit our registration page to reserve your spot!
4th Annual Veterans Appreciation Dinner
Our annual Veterans Appreciation Dinner is our primary fundraiser for funding the 2019 needs of Operation K.A.V.I.C. The event will be on Thursday, November 1st at the Defiance K of C hall. All local veterans and their families are invited to this free dinner.
In years past, we've hosted a soup cook-off at the dinner, however, we'll be changing the menu up this year, so follow our Operation K.A.V.I.C. Facebook page for more details.
100% of funds raised through sponsorship of the Veterans Appreciation Dinner go directly to the Operation K.A.V.I.C. fund!
Operation K.A.V.I.C. has had a profound impact on the veteran community in Defiance, Ohio. To show our appreciation for our local veterans, we hope to continue to be able to give back to them and their families for years to come.