OHIO COMPANY MARKS MILESTONE OF DRIVING FORWARD SINCE INCORPORATING IN 1978
2018, Defiance, OH – Keller Trucking, an affiliate of Keller Logistics Group, Inc., is proud to announce its fortieth year of progressively moving forward in the trucking industry. Since its incorporation in 1978, Keller Trucking has expanded its fleet from 6-7 trucks to 150 trucks and 450 trailers.
Founder Tom Keller began his career at the age of 16 transporting loads of melons grown on his family farm in Knox County, Indiana to neighboring cities and eventually across state lines into Michigan and as far south as Georgia.
By the late 1970s, Tom's interest in the trucking industry led to purchasing additional trucks and eventually moonlighting from a makeshift office at his kitchen table coordinating freight.
The company moved to a location on Jackson Street in Defiance in 1980 with an office and small terminal that held 10 trucks and trailers, with an apartment nearby for drivers to sleep and clean up between routes. Keller Trucking became a leading innovator as one of the first trucking companies to use side curtains and double trailers.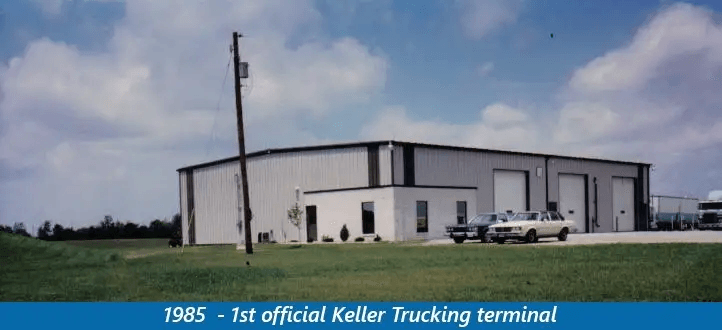 Due to growing volume, in 1985, a 7,000-square foot terminal, small office, two maintenance bays and a wash bay were constructed where the Keller complex remains today on Elliott Road in Defiance.
See How Far We've Come! View Our Capabilities Video
Tom recalls, "The first 10 years of Thomas E. Keller Trucking were times of growth, hard work, and learning from my mistakes. By the end of the 80s, I was happy with what I had built."
When others speak of Tom's success, there are common themes of a strong work ethic and being a problem solver and a good listener. Tom Hurtig, Keller Trucking's Master Mechanic and life-time employee says proudly, "Tom has always been very modest. At a company Christmas party about 20 years ago, he made a speech where he humbly said, 'I am not a smart man. I have just been in the right place at the right time.' I agreed with him to an extent. He is right that you have to be in the right place, but I also think success happens when preparation meets opportunity. Tom did the preparation part – his years of making sales calls and building relationships – and that's why he found success. When opportunity came, he was ready."
Bart Wilhelm, one of Keller Trucking's professional drivers, that has been with Tom for decades states, "He was a hard worker, always listened when we had conversations and was a natural problem solver. Tom had a creative solution for everything."
Tom began succession planning in the early 1990s by grooming nephew, Bryan Keller, to eventually take over the family business. By 2002, Keller Logistics Group, Inc. was created and over the past 4 decades has expanded to provide a full asset based third party logistics portfolio by adding affiliates: Keller Warehousing and Distribution, Keller Packaging, and Keller Freight Solutions.
Most recently, the company announced a venture into food preservation technology (High Pressure Processing) with the addition of affiliate, Hydrofresh HPP in 2018.
Visit the new Hydrofresh HPP website
The anniversary is being marked with the release of Tom's memoir, The Life and Legacy of Thomas E. Keller and related events throughout the year.