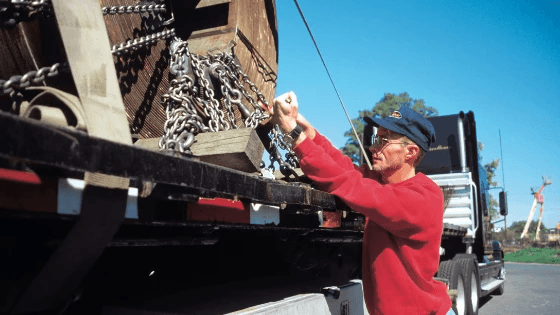 Actively participating in safety measures not only promotes, but helps to ensure healthier, happier and more efficient employees.
Keller Trucking has implemented the use of Functional Capacity Exams in order to verify that the drivers we are hiring are physically capable to do the job. This "test" puts your knees and shoulders to work comparing the strength needed to do certain essential functions of the job and the driver's strength in those situations. This testing is important because it prepares prospective employees for the physical demands of the job, which a paper test doesn't allow.
For example, on paper, a person can be perfectly qualified to be a fire fighter, but realistically, they just don't have the physical strength to handle all the equipment and the stamina to deal with all the physical requirements that the job demands. This ensures that we have the most qualified applicants on the job, which in turn reflects on the quality of service our customers receive.
Plus, knowing that we take extensive safety measures with our employees positions us as a reputable partner to our current and future customers.
Another benefit to utilizing the Functional Capacity Exam is the reduced number of workman's comp accidents. The exam identifies past injuries that could cause issues later on, as well as determining if a worker is at high risk for injuries related to physically demanding jobs.
Both the employer and the employee benefit from this preventative measure. Instilling this exam as part of our routine hiring strategy increases our workforce efficiency, safety on the job, and overall job performance. We feel the exam is a good piece to add to our well-rounded health and wellness culture.
Having a clear and healthy mind speaks for itself. It is fundamental in safety- whether you drive a truck, work in a warehouse, on a packaging line, or work behind a desk. You must always have your head in the game or you stand to lose big, so Keller has several workplace safety measures in place to go above and beyond safety standards.
Instruction is given to warehousing and packaging employees about stretching before shifts to prevent muscle strain and injury.
High visibility safety vests are to be worn by all employees and guests walking across parking lots with heavy truck traffic.
Anyone using a company vehicle may not use a cell phone while driving, to prevent distracted driving, and
we promote a drug free work environment.
We also take the opportunities presented by the Ohio Bureau of Worker's Compensation to actively improve safety for all our employees.
Keller believes that hiring the healthiest, most physically capable employees is what is best for our company, our customers, and the public. We strive to keep our costs low- this includes health insurance, workers compensation, and turnover. We work to service our customers in the most time- and cost- efficient ways possible and keeping healthy drivers in the seat is one piece of that puzzle.
We are dedicated to the safety of the public- we WILL NOT allow a driver that's a risk to the safety of the public to be behind the wheel.