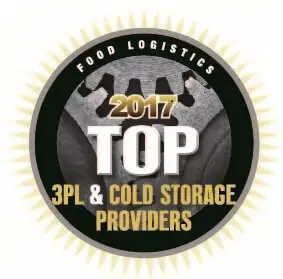 Defiance, OH: Keller Logistics Group, an asset based Third Party Logistics Provider (3PL) serving the Food & Beverage along with other key industry verticals announced today that, for the second year, they have been selected as one of Food Logistics Top 3PL & Cold Storage Providers. Food Logistics Magazine publishes this exclusive provider listing yearly and is used consistently as a planning tool for supply chain professionals.
"You don't have to be one of the "big dogs" to be recognized as a top dog" stated Julie Wanstedt, Director of Marketing at Keller. Although we would be considered in the small to medium size business category, we can provide enterprise size capabilities." Our customers choose us because of our size which affords them more personalized relationships, on-demand flexibility and customizable solutions without all the "red tape" of much larger 3PLs."
"We have experienced double digit growth since 2014 servicing several regional, national and international food & beverage brands. We attribute that to the true partnerships developed with our customers and them entrusting us with increased involvement and integration within their supply chain. Keller supports its customers by providing processes and assets that have obtained and maintained certifications that are required by the customer and the industry; FDA, USDA, SQF and Food Grade to name a few", notes Bryan Keller, President and CEO of Keller Logistics Group.
"The global food supply chain is faced with unprecedented challenges, from consolidation and M&A in the grocery sector to the impact of the Food Safety Modernization Act (FSMA), among others," remarked Lara L. Sowinski, editorial director, Food Logistics and Supply & Demand Chain Executive, "Companies that earned a spot on Food Logistics' 2017 Top 3PL & Cold Storage Providers list are critical to supporting the agricultural community, importers/exporters, food manufacturers, grocery retailers, foodservice distributors and others that depend on them to support the growing complexities of the global food supply chain."