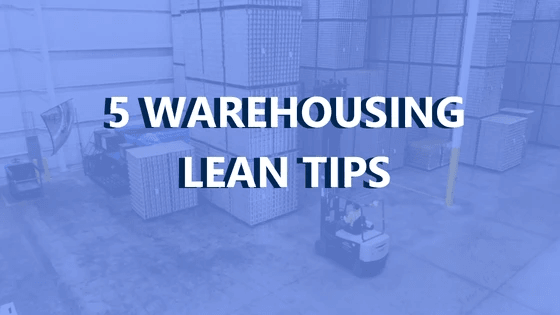 Continuing to keep warehouses operating as efficiently as possible is an ongoing process. Ideally, you want to implement  lean process improvements that positively impact your customers as well as influence your bottom line while optimizing your operational efficiency.
DATA ADMINISTRATION
The thought behind data administration is that data should be input once, then applied to as many processes as possible. The theory is to reduce any extra work regarding clean up or reconciliations, while maintaining the accuracy and integrity of the data. The lean perspective is that every time something has to be unnecessarily touched, it leads to wasted time, wages, and so on. A best practice is to avoid re-verbs such as: reworking, rewriting, rebuilding, rearranging, revising, redoing, etc…  Technology can be utilized to standardize processes, audits, and maintain data integrity. The greater the accuracy in these areas, the less mess there is to clean up later.
INVENTORY STORAGE MANAGEMENT
The status of inventory and utilization of storage bins should be tracked by real-time information management in order to optimize standards. Superior standards include tools such as visibility of Work-In-Progress by storage systems, warehouse design effectiveness, and accurate awareness of inventory within a warehouse.
VENDOR COMPLIANCE
Your compliance program should exemplify exactly how you want to receive your vendor's product. Details regarding shipping notification standards, case quantities, and labeling requirements create consistency. This is even more important if operations span over multiple locations. It is best to get input from various operational standpoints when compiling information to include in your vendor compliance program.
ORGANIZATION
Bar codes have become paramount in warehousing organization. They allow for tracking and management all throughout the process while limiting the possibilities of human error. This eliminates manual typing to input data, therefore streamlining data administration as materials are received.
CROSS-DOCKING
If at all possible, unloading incoming materials and immediately loading directly onto outbound vehicles, also known as Just-In-Time shipping, should take place. This process is ideal for perishable shipments that need to be distributed quickly.
Unfortunately, many warehouses are operating inefficiently, or have been poorly designed. Opportunities for improvement will always exist. By enforcing these and other warehouse lean tips, efficiencies will continue to improve.