In today's competitive business world, superior packaging is one of the most critical elements of success. Besides attracting new customers and making an excellent first impression for your brand, high-quality packaging protects your product throughout each distribution phase. Although secondary packaging often takes a backseat to primary packaging, it's just as vital to your operation's success.
Primary vs. Secondary Packaging
Primary packaging involves the materials that come in direct contact with your product. It is the first layer of protection and the final packaging component a consumer opens. For primary packaging components in the food and beverage supply chain, imagine materials like air-tight bags, wrappers, juice boxes, bottles, and cans.
Secondary packaging — also called co-packing — occurs when you group and secure primary packaging components. It often consists of the materials required to hold multiple primary packaging components together. Examples of secondary packaging can include everything from corrugated overpacks and point-of-purchase displays to plastic trays and shrink wrap.
Tertiary packaging is a third level of packaging that the customer rarely sees. It relates to the materials that optimize bulk shipping by protecting all the primary and secondary components. Examples include pallets and stretch films that secure products during full truckload shipments.
Advantages of Secondary Packaging Services
Your operation faces many challenges as a manufacturer or distributor of packaged products. Fluctuations in consumer demand and seasonal production shifts can significantly impact your labor force, warehouse space, and production floor. Choosing a dependable secondary packaging service provider can allow you to focus on the core components of your business by alleviating the responsibilities that occur later in the distribution cycle.
Here are the top benefits of partnering with a reliable company offering secondary packaging services.
Brand Visibility
First impressions can often be the difference between a customer choosing your product over an item from a competitor. Luckily for many companies, secondary packaging provides an inexpensive way to market your brand and bring in repeat business. To make a positive first impression, check out the private branding options leading co-packers offer for unique in-store displays.
Superior Protection
Choosing the most effective packaging materials depends on the nature of the product you're shipping. In addition to offering a protective layer for your product, secondary packaging protects primary packaging components from potentially harmful scratches, dents, and shock.
Many companies providing secondary packaging services — like Keller Warehousing & Co-Packing, an affiliate of Keller Logistics Group — are well-versed in Food and Drug Administration (FDA) requirements and feature Safe Quality Food (SQF) certified facilities.
Cost Efficiency
The main benefit of secondary packaging is cost savings, from helping you maximize warehouse space to minimizing spending on high-quality labor, materials, and packaging equipment.
Partnering with an experienced service provider to handle your shipping needs saves you time outsourcing with different companies or performing the work yourself. You can also often increase speed to market. These providers have access to state-of-the-art technology and packaging processes, including automated solutions that save you even more money.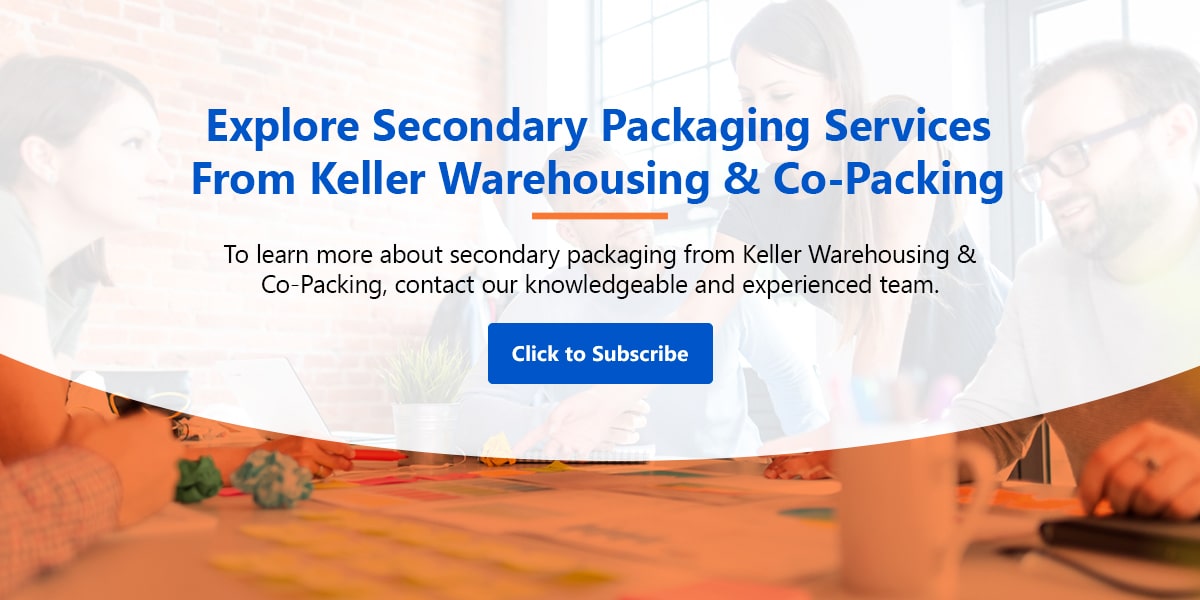 Explore Secondary Packaging Services From Keller Warehousing & Co-Packing
To learn more about secondary packaging from Keller Warehousing & Co-Packing, an affiliate of Keller Logistics Group, contact our knowledgeable and experienced team. Our full menu of solutions can help you increase flexibility and space, minimize costs, and shorten delivery times by handling each warehousing, co-packing, and distribution phase. In addition, our proprietary software provides complete tracking and visibility throughout each cycle, giving you maximum control.
Contact us today to get started.