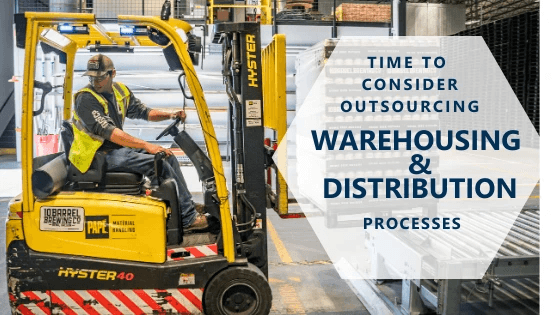 As expectations for the logistics function continue to grow, new government regulations take effect, and innovative technology becomes more common in the industry, shipping companies are finding it more challenging to handle processes on their own. Outsourcing warehousing and distribution to a third-party logistics provider (or 3PL) is an option that offers the resources necessary to meet the challenges while improving efficiency, keeping costs low, and managing demand.
Outsourcing to a third party can help companies with inventory management, packaging, and distribution processes. When done right, forming a business relationship with a 3PL is a direct way to improve the tactical and strategic operations within your supply chain.
Advantages of 3PL Warehousing Facilities 
Although they commonly help companies reduce costs and enhance service, the benefits of working with a 3PL provider extend beyond just these advantages. They can also provide top-quality technology that shippers would not have access to on their own, as well as the expertise to help companies scale their business, including quick startup for seasonal operations. 3PL personnel often offer unique skill sets with experience from various logistics backgrounds from not only warehousing, but transportation as well, helpful in offering customized solutions to meet your needs.
From improving logistics efficiency to optimizing shipping operations to introducing newly automated processes, a 3PL can help save shipping costs in many ways. While cutting costs is an essential priority for any company, the technological tools the right distribution partner will bring to the table can have a significant impact on the bottom line as well.
Learn More About Industry Related Topics- Check Out Our Blog
A Warehouse Management System (WMS) can streamline supply chain operations and enhance visibility. Managing a warehouse can be complex, so outsourcing to 3PL warehousing facilities can offer options such as:
automated communication to customers
reporting on analytics and business intelligence
integrated mobile device interfaces
Additional Warehouse Services
Leveraging enhanced warehouse services offered by 3PLs provide more accurate data, which allows companies of any size to both plan and execute better. Most importantly, you'll see measurable results. 3PLs also have an extensive understanding of the way products move through specific industries, and they know what specific processes supply chain partners require. Access to this kind of expertise can drive constant improvements and is yet another example of the strategic advantages associated with outsourcing to a 3PL warehouse.
Specialized services, such as order consolidation, cross-docking, packaging, and more further showcase how outsourcing warehousing and distribution processes can enhance your supply chain strategy. Leveraging the technology, experience, and knowledge that a 3PL offers can not only improve, but strengthen your strategic operations.