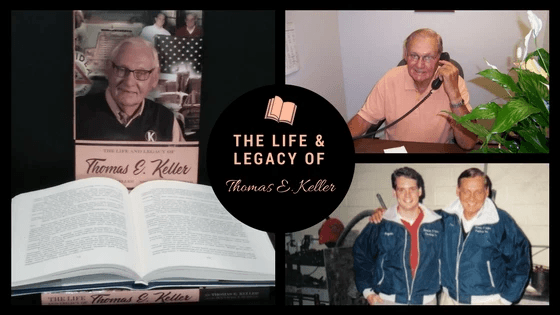 2018 marks the 40th anniversary of the incorporation of Thomas E. Keller Trucking. Tom's humble beginnings taught him the value of family, hard work, and building a legacy as told in his memoir, The Life and Legacy of Thomas E. Keller.
Returning home from Germany – and subsequently helping my family clean up the Illinois farm – I was needed again in Knox County to help with the next melon season. I ended up staying at home for about two years, hauling melons and deciding what I wanted to do with the rest of my life. I decided to enroll at Indiana University, and I spent one year there.
I studied economics and business, and lived in a small apartment with three friends. During that time, one of my friends was required to read The Wall Street Journal. Occasionally, I would pick up his daily copy of the newspaper and thumb through it.
One of those times, I saw an article about the J.I. Case Company on the front page. J.I. Case, based in Racine, Wisconsin, manufactured farm equipment. Our family owned a J.I. Case tractor, which we used on the Illinois farm. It wasn't the most well-known company, but it was the brand those around me preferred to use. When I read that big things were happening at the J.I. Case Company my interest was piqued. The Wall Street Journal painted such a rosy picture of the J.I. Case Company. Boy, did I get excited.
I thought to myself, that's a business I know something about. I'm a farm boy. We have this equipment. I know the history of J.I. Case.  I thought for a moment about how I wanted to get in touch with the company. I wrote about my background as a farm boy, how I was mechanically inclined, and my familiarity with J.I. Case. I enclosed my address and phone number and I heard back quickly.
"You know, I have an opportunity that you might be interested in," Ed explained. "I need a man right now. We, at the St. Louis branch, are doing something at the Case company that no one else is doing. I had a sales manager last year start a program called Case-o-Ramas." A Case-o-Rama was essentially a live demonstration of the J.I. Case equipment paired with a little entertainment to keep those who attended interested.
After a second interview in St. Louis, I accepted the job in my mid-20s. This was the start of a career with a rising company that could lead to big things. I never returned back to IU. After the summer season of Case-o-Ramas, my career with J.I. Case was just beginning.
My opportunities with J.I. Case continued to grow, long after the first summer filled with Case-O-Ramas and traveling from one small farm town to the next.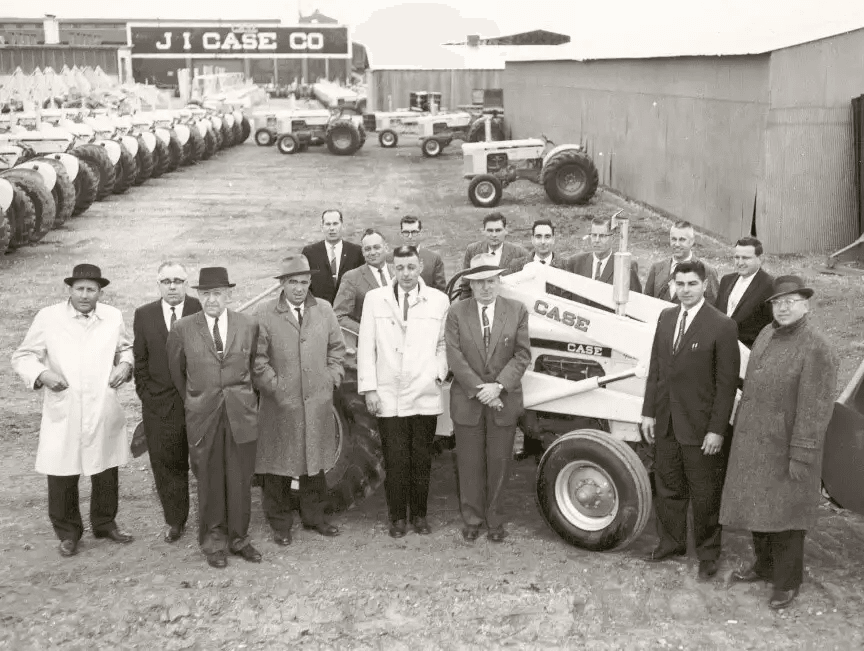 "You know that area down around Mountain Grove?" Ed asked.
"Yes, I remember," I told him. Mountain Grove was one of the poorest towns we visited during a Case-o-Rama era.
"That territory manager down there is ill," he shared. "I need someone to temporarily take his place. I think that person is you."
But the poverty I remembered from the Case-o-Rama became a challenge for me as the territory manager. The farmers there were just so poor. They didn't buy any of the high-ticket pieces of equipment. I started making hay balers available on lease. The poor farmers could use the equipment for a short period of time for a fee, and then return it when they were through. I told Ed about the idea, and he liked it.
Not long after this, I received a call from Ed. He remembered my desire to get to Illinois. "The Peoria branch up here needs you to do what you did for us last summer. They need a man for their Case-o-Ramas." We sailed around from town to town throughout Illinois, and we put on some spectacular shows. The dealers loved it because word of mouth spread, giving the dealers sales leads. I had another reason I wanted to head to Illinois besides the better opportunity for sales. A woman named Suzette was back in Vincennes, and we had talked about marriage.
Right around this time, they wanted me to stop doing the Case-o-Ramas and take over a territory in Kankakee, Illinois, about 60 miles south of Chicago. Suzette and I got married, and then we traveled to New Orleans for our honeymoon. When we returned from our trip, we loaded up the Pontiac with the gifts we received at the wedding and headed to Kankakee. Before we knew it, no sooner than I had settled into Kankakee, I was being asked to take over a brand new territory, this time in Burlington, Iowa. Reluctantly, Suzette and I made the move.
Times were tough. These dealers had tons of equipment that they weren't able to move. Even before it started raining again, I was concerned about hitting my sales numbers. The new man, Rupert, called me into the office after all of the numbers came in.
"Tom, we've got some bad news for you. We're going to have to relieve you," he said. "You're the youngest man, and you had a bad year out there in Burlington."
So they did and I went back and told Suzette about what transpired. As frustrating as it was to lose my job, I knew I had done my best. I knew the excessive rain was something out of my control. I also knew I needed to get a new job, and find a company to work for that was thriving, the same way J.I. Case was when I started the Case-o-Ramas.