Keller Logistics Group to Expand Footprint of Industrial Space in Northwest Ohio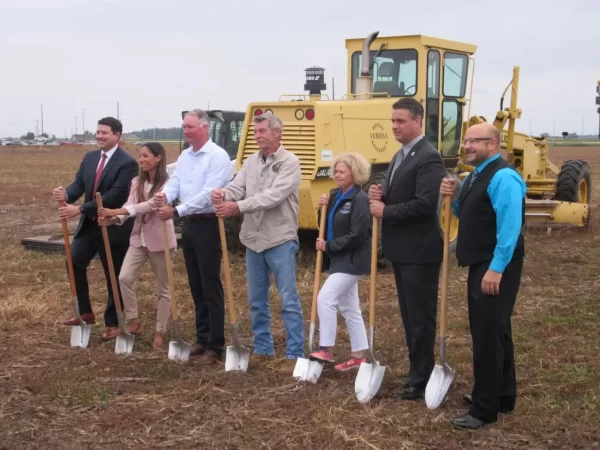 Napoleon, OH: The Henry County CIC announces that the Keller Logistics Group broke ground on their newest development project in Napoleon on Tuesday, September 6, 2022.
A 150,000 square foot speculative building will be constructed in Napoleon's Industrial Park on Independence Drive. CIC Executive Director Jennifer Arps states that Keller Logistics Group's CEO, Bryan Keller, plans to invest $6.5 Million towards the industrial building, which will be complete by mid-2023. "Through partnership with the City of Napoleon and working with The Regional Growth Partnership and JobsOhio, we were able to provide the Keller Logistics Group the tools needed to get this project off the ground."
"We've had great success in recent years on development projects and we see this project having the same potential. There is a lot to offer here in this growing industrial park". "The beauty of putting a building up is it becomes as asset to the community. Businesses will come and go, but the building will remain, offering new opportunities for the betterment of the community." – Keller Logistics Group CEO, Bryan Keller
The upcoming building, which can be customized to suit, will begin being marketed as available for lease to interested companies. Situated on 10.10 acres, the design will feature a 6″ concrete floor throughout, 50′ column spacing, 35′ clearance height with 14 loading docks and 2 overhead doors. Potential office space with ADA restrooms can also be designed. Arps stated the beauty in a developer offering a "build to-suit" spec building is that early interested parties have the option to be included in the design. With this ideal industrial site being located along the US-24 four-lane "Fort-to-Port" corridor, logistically you are within one hour to downtown Toledo, Ohio or Fort Wayne, Indiana.
"We are thrilled that a new building is going up in Napoleon. It was a total team effort, and we would like to thank everyone involved. We will continue to work on making Napoleon a great place to live and work. This building can be used by a company that is already here to expand or maybe help attract a new business to our area." – Mayor Jason Maassel, City of Napoleon
About Keller Logistics Group: A diversified family-owned business, Keller Logistics Group started out as a single truck and trailer trucking company over 40 years ago, and now is an asset-based 3PL (third-party logistics provider) dedicated to serving the transportation, warehousing, distribution and contract packaging needs of manufacturers, wholesalers and retailers across the U.S. Our suite of services provides efficient closed-loop logistics solutions through one provider; minimizing the additional costs associated with relying on multiple logistics resources.