Keller Logistics Group Receives Making a Difference Award from Northwest State Community College for their work with Operation K.A.V.I.C.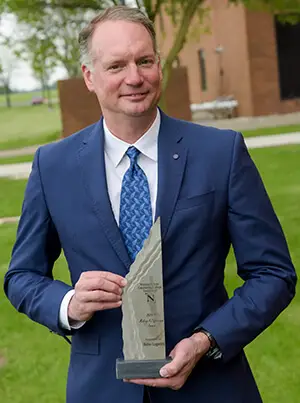 Bryan Keller, CEO of Keller Logistics Group, pictured with the Making a Difference Award.
Defiance, OH: At the 10th annual Green Carpet Event hosted by Northwest State Community College on Thursday, May 16th Keller Logistics Group was one of three recipients of the Making a Difference Award for their work with Operation K.A.V.I.C.
Operation K.A.V.I.C. (Keller Assists Veterans in Crisis) was created in 2015 to prevent our local military and veteran personnel from enduring financial hardships. As a partnership between Keller Logistics Group, the Defiance County Veterans Services, and Ravens Care of Defiance, Operation K.A.V.I.C. works to fill the gaps in benefits that may be causing a financial hardship. As Bryan Keller mentioned in his speech at the event,
"For the last 29 years I have called this community my home. I have raised my kids in Defiance and built my business. With all this community has done for me, I wanted to find a meaningful way to give back. In 2015 Keller Logistics Group founded Operation K.A.V.I.C. … Operation KAVIC can help with anything from rent payments, to medical bills, to car repairs. If you can think of it, we've probably paid for it."
He then went on to tell a story about how within the past two weeks, a fiancé of a deceased veteran, who is raising his children, came in for assistance with rent and the fund was able to take that burden off her shoulders.
He then closed his speech by saying,
"As you can tell, Operation K.A.V.I.C. isn't a one man show, it takes an army to make this successful. It is my hope that Operation K.A.V.I.C. will be used as a model or foundation for businesses outside of Defiance county to use to create their own programs to assist their local veterans who are enduring financial hardships."
From the first fundraiser in late 2015 to year end 2018, Keller Logistics Group has raised over $196,000 and of that, $122,217.70 has been spent to assist veterans and their families in Defiance County.
For more information on Operation K.A.V.I.C. visit Keller Logistics Group's website: https://kellerlogistics.com/about-keller/operation-kavic/