In honor of National Truck Driver Appreciation Week (September 11 – September 17), we at Keller Logistics Group and its affiliates have compiled a countdown of our Top 7 Reasons Why We Love our Keller Drivers!
We'll start at #7…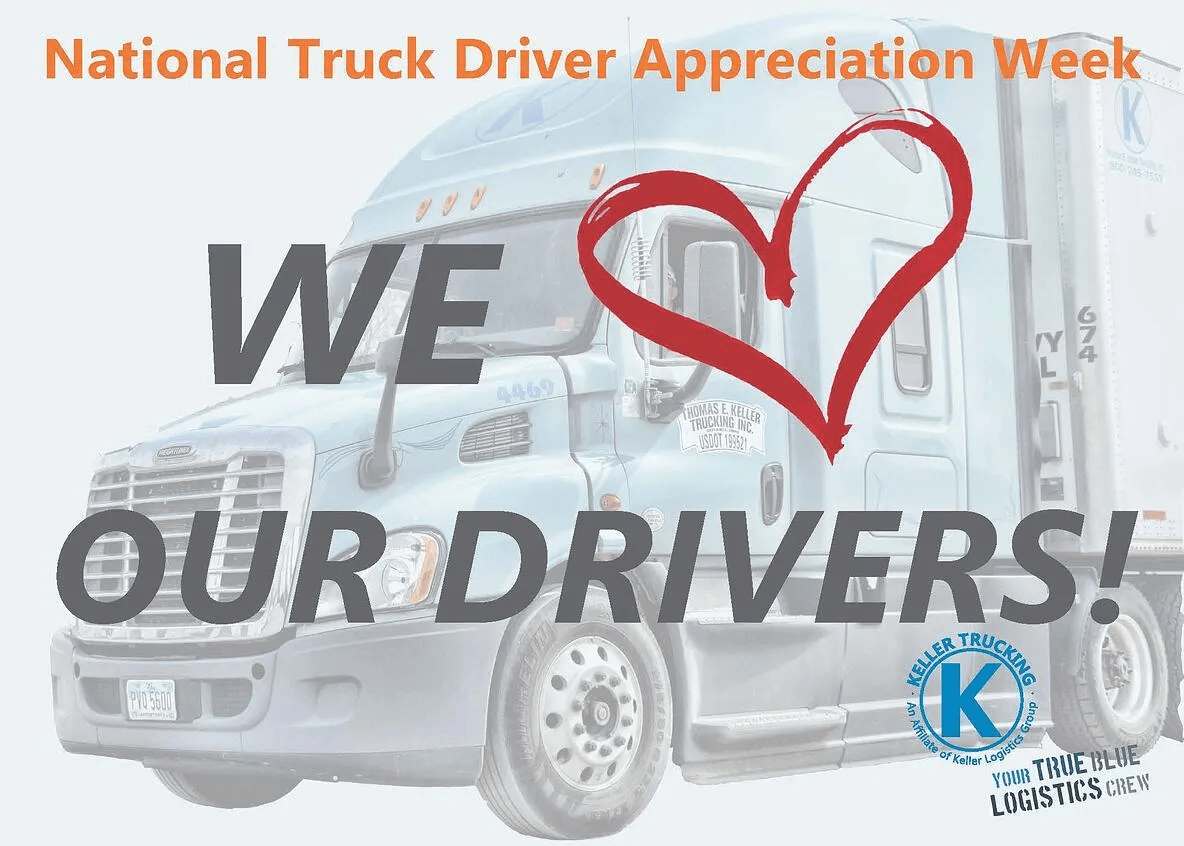 7. Being able to fuel their wanderlust: (Strong desire to travel) No matter the type of Driver you are, long or short haul, to do your job for years you need to have a certain level of wanderlust. To enjoy and embrace the open road and being able to marvel in all of our country's beauty and glory. We love bringing on new Drivers and watching them grow with us and hearing their stories of all the places that they have been. So to all those teachers that said we couldn't make money staring out a window, our drivers won that round!
6. The camaraderie among our Drivers: We love how well our driver work together and help make the open road a little friendlier. A veteran Driver is more than willing to help show a newbie the way of the road. More than just our own, we love their ability to talk with other Drivers, recruiting them to our amazing team! Nothing beats word of mouth when wanting to add awesome new Drivers to our True Blue Crew!
5. Their ability to tackle any challenge: Every minute there is a person on the road not making a decision, either passing it off or not making the safest one. Professional Drivers have to make around 180 decisions a minute*, and they are accountable to them. (*Marvin Johnson & Associates) These decisions come naturally, whether they are about the millions of dollars of cargo they are carrying or ones that could affect the lives of all those around them. They are constantly vigilant and choosing to make the best decisions they can, for Keller Trucking, themselves, and all those around them. So thank you for all the hard work and fearlessness you put into every challenge that comes your way!
4. Their love of their Keller trucks: We love that our Drivers treat their trucks as if they were their babies. They maintain them with such loving care decorating them with pictures from home, kid's artwork, their old beat up trusty coffee mug, or their favorite blanket to keep them warm. Our Drivers love Keller Trucking, too! They go out every day and show love for our company whether its spreading the word on Keller Trucking being a great place to work or maintaining their big blue beauties so that new customers and other drivers can see our professionalism. Their love for Keller Trucking is unmatched and we are happy to give it right back to them.
3. We know them personally: Most importantly, we love our drivers because of who they are as individuals. Here at Keller, our drivers are not numbers! They are people. People with families, pets and lives outside of Keller. We are dedicated to knowing each and every one of them and trust in our driver's ability to deliver our customer's freight safely and on time. We know every time they leave a location that they will do everything in their power to help us maintain our remarkable service to our customers.
2. They are our backbone: Keller started out as a trucking company, without our Drivers continued dedication our company, we would not be what we are today. The level of dedication they show every day to their job and to our customers makes maintaining and growing our customer relationships so much easier
1. Their Commitment to their Job (Role/Passion): We at Keller Logistics Group want to recognize and commend our drivers for their commitment to us, and our customers. We realize that the job isn't just that; it's a lifestyle, and to be successful it has to be in your blood.
"Choose a job you love, and you will never have to work a day in your life" Confucius (551-479BC)
A driver has to commit to long days, customer schedules, keeping a running truck, and maintaining valuable freight. We know that this can make having a personal life difficult. More than that, we know that they have to commit to missed birthdays, soccer games, school plays and anniversaries. For each and every milestone that you miss, we salute you for your commitment and passion to moving America.