Busy season.
It's a term we hear frequently throughout the year from a variety of industries. We know that tax season is busy for accountants, the retail industry is booming around the holidays, and farmers are out from dusk till dawn harvesting the fields.
We all have a busy season. It comes every year, at the same time, and we usually hurdle the same obstacles year after year. Instead of spending the time leading up to busy season agonizing over all the work that needs done; whether that be tax returns to file, long hours at the store, or the acres upon acres of fields; let's talk about what we can do to help alleviate the stress to ourselves and our company.
Talk to a Contract Packaging Provider!
For those companies with packaged materials, have you considered using a contract packager to ease the strain from increased demand during busy season? Since this time of year is temporary, it makes sense to outsource what you are unable to handle internally, or will be stretched to handle, to a reliable third party.
In previous blog posts we've talked about the specific services provided by a contract packager such as: inventory management, display building, kit assembly, blister packaging, etc. so this time we're going to take a look at the contract packaging services that are not so transparent, but make a solid impact on your operational costs.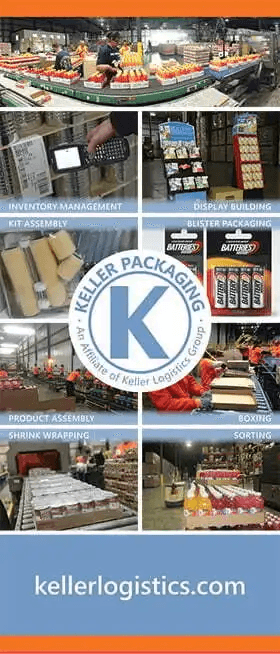 Although this is not an entire list, I hope you gain some take-a-ways to help get you through your next busy season, whenever that may be.
Flexibility
Flexibility in more ways than one! First off, contract packagers can provide a flexible work force to meet the seasonal volume demands of your organization. There is no need to hire additional employees, train them, and manage the overhead; the contract packager absorbs those costs and responsibilities.
Secondly, contract packagers can provide flexibility in their machinery allowing you to focus on making your product. Let them focus on their core competency, re-packing the product to fit the specifications of your customer.
Lastly, they offer space flexibility. By outsourcing temporary or seasonal items, you open up your own facility to space needed for your primary products throughout the year.
Low capital investment
Little to no capital investment is needed when you outsource the secondary packaging of a new product to a contract packager. As with new product launches, the demand for your product is uncertain. Partnering with a contract packager allows you to focus on growing your new product without worrying about where to put the new machines, store the product, and train the workforce to operate the process efficiently.
Nonstandard Work
Products that require special equipment, are labor intensive, take up a lot of space, or need re-worked are great for Contract Packagers. Employees of the contract packager have extensive knowledge and skills in their industry allowing for increased productivity and high efficiency.
Additionally, partnering with a 3PL based contract packager will provide you with value-add services along with being able to help optimize your transportation and distribution strategy.
Businesses are always looking for ways to optimize their costs and increase efficiency. Outsourcing to a contract packager can provide the production capacity, utilize multiple forms of packaging, and minimize costs. Not only will you ease the stresses of the busy season, you may even be thanked by co-workers for the workload off their shoulders while also making an impact on the bottom line.