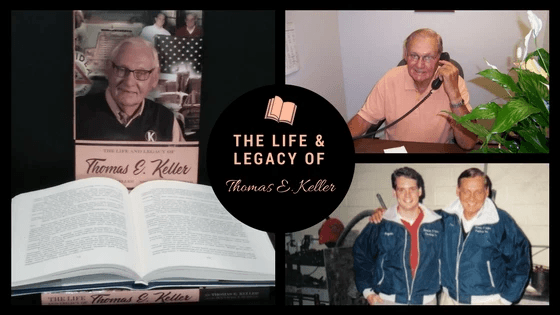 2018 marks the 40th anniversary of the incorporation of Thomas E. Keller Trucking. Tom's humble beginnings taught him the value of family, hard work, and building a legacy as told in his memoir, The Life and Legacy of Thomas E. Keller.
I came of age in a unique time. Born at the end of 1933, the United States was deep in the Great Depression. There is much that I don't remember from this time, but it shaped the person I am today. I do, however, remember the later years of the Depression when I was about five or six years old.
The Keller family, and the entire Knox County area, was undoubtedly impacted by these years of hardship. My parents were already financially conservative and risk-adverse due to the hardships from their childhood. When the Depression came, they became even more conservative.
These years taught me the importance of being financially conservative because you never know what tough times might be ahead. The lesson wasn't instilled in me as deeply as it was for my parents. For me, it was something to keep in mind, but it didn't stop me from taking risks.
During my teen years, I received two types of education – a high school education and what you would call a "street" education. Though, for me, it was more like a highway education because those lessons were taught to me on the road, hauling and negotiating melons in different states.
Central Catholic officially opened its doors in 1947. Knowing we would receive a quality Catholic education, Mom and Dad enrolled (my brother) Marv and I immediately. Despite their lack of high school diplomas, they wanted us to have a good high school education and saw the value of us deepening our religious convictions. I, along with 36 other students, comprised the first graduating class. The school still stands today and is now known as Rivet High School.
About the same time as I was receiving my high school education, I was introduced to the world by hauling and selling melons. As soon as the school year ended, I immediately started driving for Dad.
My "street" education and the academic education I received both led me down two critical paths in my career. The first being the pursuit of a higher education and the second, preparing me for a career in sales, and an eventual business owner.
Education became a priority for me as I turned 18. However, it was up to me to find a way to pursue it. My family was supportive of my college aspirations, but they didn't offer much financial support. It was my job to make sure I not only paid my way, but I got there myself and found a way to afford food and other expenses.
If you remember, school was a struggle for me throughout my academic career, but I did manage to make the honor roll my last two years. However, basketball was my true ticket to college. Before I knew it, I was accepted with a full ride to Saint Martin's. I was the first person to attend a university in my family.
Now, when I got into Saint Martin's, it was located clear across the country. My '39 Chevy wouldn't make the trip. Plus, I couldn't afford the gas. If I wanted to go to college, I needed to get out there in the most affordable way possible, so I hitchhiked.
I ended up staying at Saint Martin's for three semesters. After the fall semester of my sophomore year, I decided to leave the university and head back home for the remainder of my higher education. I had a dream that if I went back to Vincennes, I could continue my education while using Dad's truck to haul coal up to Detroit to sell.
I enrolled in Vincennes University, which was a junior college, after finishing my third semester at Saint Martin's. This was January 1953. The basketball season was underway, and Coach Bradfield put me in his program. Of course, attending Vincennes University meant I was able to live at home and work on the farm. So Dad put me to work, especially when melon season began. But, in 1955, our nation was fighting in Korea. Knowing my age and good health made me an excellent candidate to get drafted, I instead put off starting my career and volunteered for the military.