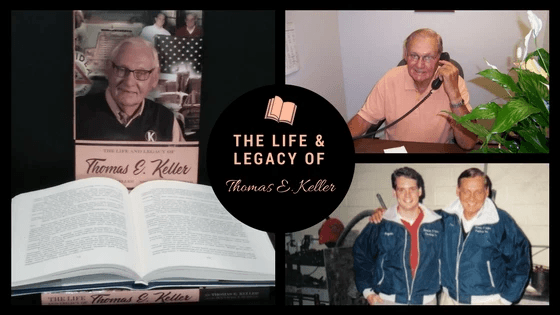 2018 marks the 40th anniversary of the incorporation of Thomas E. Keller Trucking. Tom's humble beginnings taught him the value of family, hard work, and building a legacy as told in his memoir, The Life and Legacy of Thomas E. Keller.
I made the decision to join the military. At the age of 22, the Korean War was over, but the United States was still actively sending troops to the line. The draft was still in effect. I was a perfect candidate for the draft – I wasn't yet married, and I was in good health. Because of the very real possibility of me being sent overseas, I decided to be proactive and volunteer, which was a two-year commitment. If I had to serve, I wanted to get it over with.
I was, however, apprehensive of what those next two years would look like. I started by serving eight weeks at Fort Knox for basic training, then eight weeks at Fort Smith for artillery school.  I was distracted and remember telling (my sister) Doris I was miserable in the military.
I did end up being more fortunate than I anticipated. I was sent to Germany. If I had been sent to Korea, I would have been very disappointed. But I was prepared for wherever I was stationed. After you make the decision to serve, you just have to get in the right frame of mind. Some of the guys I met were married, and extremely homesick. That wasn't me. I wasn't in love, and I was older than most of the other guys. I knew what I had to do, and tried to make the best of it. But I'll tell you, as much as I wanted to get those two years over with, I had a good experience with my military service.
Shortly after I arrived in Germany and got settled, I spotted a notice on the bulletin board saying, "If anyone is interested in playing basketball, report to the gymnasium." This sounded like a great opportunity, so I decided to report to the gymnasium.
I got permission to leave my unit and try out for the basketball program. This was for an upper-level team. I made the team and was placed on temporary duty, TDY.
I continued to live in my present location, but all I did was play basketball. We traveled a lot and went all around Germany competing. This lasted from October through about May, the duration of the season. We entertained other troops at our games.
Just as basketball season commenced, and I was about to end my TDY, the baseball season was getting ready to begin. There was a second lieutenant, Lt. Simpson, who had graduated from Princeton and was put in charge of the program. He was an officer in my group. Lt. Simpson knew I played basketball and approached me to play baseball.
"Why don't you come out for baseball?" he asked.
"You know, I played a lot of baseball, but I don't think I'm good enough to make the team," I said.
"Here's what I want you to do," Lt. Simpson said. "I want you to come and be my manager."
I nodded and asked what the job duties of a manager entailed.
"I want you to post on the bulletin board of where our next game will be and what time we need to leave. I want you to get our players out of bed, to breakfast so they can get fed, onto the bus and be ready to go," Lt. Simpson said.
He paused, as I thought about it.
"You know," Lt. Simpson added. "It's going to be a hard job. Those guys will be contrary. They'll want to sleep in, and they'll resist you from time to time. And you'll have to handle that."
I decided I was up for the task. This put me immediately back on TDY, and I served as the baseball manager from May throughout the summer to September. As I finished the baseball season, basketball was right around the corner. It was time for my second season, inevitably putting me back on TDY. Most of my time in Germany was TDY time.
But despite spending most of my service this way, I did get some good soldiering in, especially in my first year. We had these big guns, made regular visits to the shooting range, would travel a couple hundred of miles to load and unload our railcars. Typical soldiering.
I was set to complete my duty in November of 1957, yet my service ended a few months earlier because I was needed at home. Prior to 1957, Dad had purchased an Illinois farm, a big investment for Dad. Before I enlisted, I even thought about investing in land in Illinois myself. I visited it a couple of times, and the gentleman I was talking to was very happy with his renter. On another occasion, also before volunteering and near Dad's Illinois property, I was looking at another piece of farmland. He was even willing to include his John Deere equipment. Mom and Dad liked the land, but I needed their help with a loan. They weren't willing to make the investment, and I didn't have any money to my name. I later found out they really wished they had taken advantage of that opportunity. But it never came to be, and I joined the military shortly after.
Fast forward to late summer of 1957, a tornado swept through Illinois, leaving Dad's Illinois farm in shambles. The cleanup ahead for my family was cumbersome, and they needed every helping hand they could get. Including mine. My parents went to the Red Cross and mom penned a letter, requesting my presence at home and an early dismissal from my service. The request was granted just as my second basketball season, and my TDY ended.
After returning home and helping Dad in Illinois, I was ready to start my life.